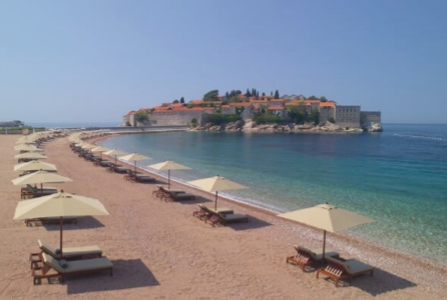 Join us!
Aman Sveti Stefan Resort announces the position:
Sales Manager
JOB TITLE: Sales Manager
DEPARTMENT: Sales
LOCATION: Aman Sveti Stefan
REPORTING TO: General Manager with dotted line to Head of Global Sales for Aman
SUBORDINATES: Events & Group Coordinator & Events & Groups Manager
---
At Aman we are on a mission to create the world's ultimate luxury lifestyle brand; hotels, resorts, homes, experiences and products which transform our guests' and owners' perspectives and daily lives. To achieve our ambitions, we capitalize on our unique combination of world-class and diverse talent, unmatched design, and access to locations, cultures and experiences few are privy to. We live by the 'Aman way of life' – a mindset shared by our guests, home owners and employees which creates a lifelong sense of belonging driven by our values of:
Invest in individuality – fostering an environment where each person can push boundaries, take risks and challenge norms.
Nurture pathfinder spirit – exploring experiences, opportunities and locations which transform into new exciting ventures.
Act like owners – taking charge, leading by example and an immense sense of pride in our work.
Celebrate communities – ensuring that every member of our community is looked after and nurtured in a compassionate, respectful and collaborative manner.
AMAN SVETI STEFAN
Pink-sand beaches, crystal-clear waters and rugged, pine cloaked mountains form the untamed backdrop to Aman Sveti Stefan, in one of Europe's last corners of truly wild beauty -Montenegro. Stretching across a causeway from a rustic island village to a former royal residence, the 80-acre estate divulges charm and sophistication at every turn. Secret coves, a serene
Aman Spa and a spectacular clifftop pool all play their part in this private haven, while intimate venues, scattered from shoreline to rocky precipice, offer endless inspiration for celebrations. A stroll along the shoreline, Queen's Beach, the scallop-shaped bay considered Montenegro's finest, is at the exclusive disposal of Aman guests.
OVERVIEW
This role is an integral part of the Aman Sveti Stefan team and is responsible for the creation, development and implementation of the sales strategy for the resort. The role oversees all disciplines of Sales. A key component will be the maximization of financial performance and achievement of the agreed budget across all revenue generating areas, Room, F&B, Spa, MICE and activities for the resort.
This role is based on property, at Aman Sveti Stefan in Montenegro and reports directly to the General Manager, representing Aman Sveti Stefan worldwide (while liaising with the Global Sales Team). This role is responsible for the creation, implementation and execution of the sales strategy for all key segments, for communicating and aligning with the overall global sales strategy, and specific responsibility for the delivery of room revenue and occupancy.
Job description:
Create the sales strategy for the resort for all revenue generating departments, Rooms, Spa, F&B & events
Develop and implement the Sales plan for all above areas
Prepare the related budget and rooms revenue for the property
Participate in tradeshows, conventions and promotional events within the hotel and trade related organizations as relevant to the hotel
Ensure effective relationship management of new and existing accounts
Prospect and development of group business (events, wedding and MICE)
Organization of familiarization trips and site inspections
Qualify incoming inquiries from key accounts and following up on leads for strong conversion rates
Develop and strengthen our DMC relationships to ensure increased market share from competitive set
Establish and maintain excellent relationships with counterparts at competitor Hotel Sales & Marketing teams that can provide referral business, including Concierge teams.
Tracking of account productivity via Salesforce or equivalent sales contact management functionality and preparation of weekly reports
Respond to Corporate office's projects and requested reports in due course
Exceed personal goals as well as department budget on a yearly basis
Monitor and exceed set Key Performance Indicators
Maintain and continuously improve product and service quality standards by conducting ongoing evaluations
Prepare monthly forecasts, departmental budget, and function space yield maximization
Responsible for developing the annual business and marketing plan for the hotel
Conduct regular competitive pricing and product offering surveys
Knowledge and skills:
Must have 3+ years' experience in a similar role within a luxury hospitality environment
Fluency in English (Additional languages preferred)
University Degree or equivalent required
Progressive career path and acknowledged track record within Sales & Marketing in the luxury hospitality field
Strategic Sales expert whose career has had a strong focus in this discipline
Ability to work with multi culture environment with an engaging personality, should be hands-on, yet strategic and can conduct business at the highest level with senior executives and local dignitaries
First class presentation and communication skills with a balanced sensitivity to cultural issues
Demonstrated leadership and organizational skills
Adaptable & flexible with the capacity to set high goals and standards for an integrated collaborative approach between departments
Bottom-line oriented with emphasis on quality guest-service and team-building
You will already possess 3-5 years of experience of Travel Industry, preferably as Sales Manager. You are a degree holder in Sales and who is confident and articulate with a professional appearance. You understand the expectations and trends of luxury and lifestyle travelers. You are able to demonstrate strong existing relationships with clients and luxury travel partners with a positive track record of sales performance. You will display excellent communications and interpersonal skills to engage with others. You are highly self-motivated and hands-on with sales presentations, events coordination and day-to-day operations.
For this role, fluency in business English, MS Office skills, strong sales experience in the Leisure, MICE and corporate segments within the luxury travel and hospitality industries are required.
If you are interested, please send us your CV (preferably with photo) to the mail address: amansvetistefancareers@aman.com or apply by using the option: KONKURIŠITE NA OGLAS.
Only shortlisted candidates will be contacted.
Prijavljivanje na ovaj oglas vrši se klikom na opciju "Konkurišite na oglas" ili na e-mail, poštansku adresu ili putem linka ukoliko su oni navedeni u tekstu oglasa.
Prekoveze.me ne vrši postupak selekcije i odabir kandidata već je to u nadležnosti poslodavca. Odredbe ugovora o radu predstavljaju direktan dogovor između poslodavca i zaposlenog.