Senior Construction Manager - Quality Assurance
Ovaj oglas je istekao i poslodavac više ne prima prijave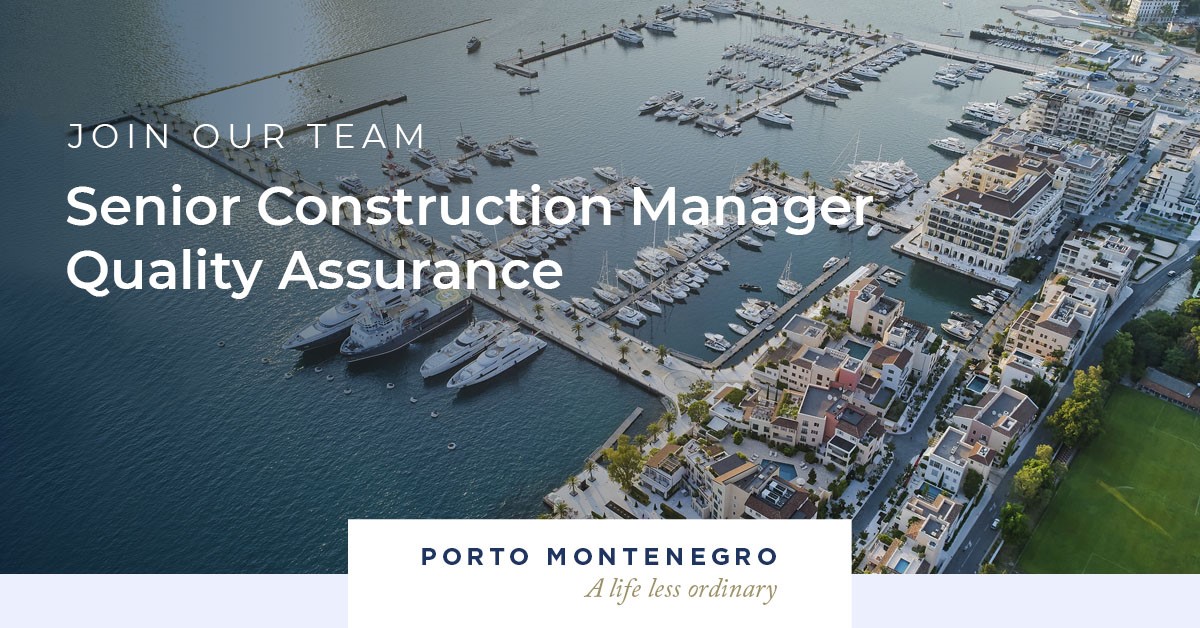 Senior Construction Manager - Quality Assurance
Through master planning of the estate's sequential development, Porto Montenegro is planning a series of large-scale, mixed-use hospitality anchored development district projects over the next 10 years as part of its ongoing evolution.
For this reason, an exciting opportunity and new position has now arisen for a highly motivated and experienced Senior Construction Manager - Quality Assurance, to join Adriatic Marinas d.o.o. Property Development Team.
Candidate Profile:
16 + years of relevant Construction Management experience; Previous roles as a Construction Manager, Quality Assurance Supervisor, Finishing Foreman or Construction Project Manager;
Bachelor's Degree in Engineering or Architecture is a plus but not essential for the role;
Multi-disciplinary Construction Management skills & knowledge are a must, inclusive of onsite stakeholder management;
Demonstrated regional and or international experience with large building contracting firms is essential;
Specific experience relative to fast-track delivery programmes and quality assurance supervision;
Specific on site experience managing multiple sub-contractors works packages, multidisciplinary;
Experience with luxury and super luxury fittings & finishes and quality of construction / construction techniques;
Experience opening hotels, pre-opening programmes and procedures, managing interface of operators & tenants with contractors and specialist sub-contractors;
Experience of luxury fitting out, attention to detail, the snagging and de snagging process to satisfactory completions;
Experience relative to FF&E, OS&E & Front of House Systems installations, logistics, quality control and deficiencies management;
Experience scheduling User Acceptance Testing of finished construction / addressing deficiencies with multiple sub-contracting construction firms, manufacturers and suppliers;
Experience relative to the overall commissioning and construction supervisory process, managing completions;
Previous roles as a Clerk of Works, Resident Engineer or Resident Architect is an advantage;
Experience with Mixed Use schemes and Resorts, Hospitality anchored with Residential and Commercial components;
Experience relative to the adoption of build right first time techniques intended to eliminate rework and requirement for costly post construction snagging programmes;
Specific knowledge of contractor's QA procedures and assisting with contractor selection;
Experience in upskilling workforce programmes;
Contributing to the establishment of an industry leading health and safety programme;
Experience with snagging, de snagging, as built records software and real time reporting is a significant plus;
Knowledge and demonstratable experience of efficient QA and snagging programmes via the utilization of technology;
Proven management & supervisory experience through the complete construction cycle with particular regard to completions, the snagging process, equally the defect liability period and post contract works / works within an operational environment;
Client facing attributes is a significant plus, experience managing multiple stakeholder expectations relative to quality assurance and satisfactory completions / functionality;
Problem solving attributes, a can-do approach to teething problems, proactive and energetic;
Planning, basic programming & organizational skills;
Proficiency with Word, Excel, PowerPoint reporting is a requirement with commensurate verbal, written, presentation and communication skills;
Excellent command of English language, both written and verbal;
Knowledge of local language is essential.
Interested?
If you would like to hear more about this opportunity, then please get in touch.
All applications will be treated with confidentiality, and circulation of candidate information shall be limited to internal administration relative to the recruiting process.
Please submit and complete your application in confidence to:
Human Resources, Adriatic Marinas d.o.o. at https://careers.portomontenegro.com/jobs/senior-construction-manager-quality-assurance-lZB
We look forward to receiving your application and meeting you in the process!
Ovaj oglas je istekao i poslodavac više ne prima prijave putem portala.